Ducklings
Class teacher: Mrs N Serjeant
Home Learning
We understand that this is an unsettling time and we hope having access to these ideas may help you create a sense of routine and support your child's learning. Equally we are aware that people have caring commitments and that every family will be doing their best day by day and as such, not every activity may be completed. Please complete as many or as few as you would like. If you would like to share some of your child's activities at home with us, we would love to see some observations uploaded onto Tapestry and will comment on as many of them as we can! If you would like to use them at home, some daily prayers can be found here: Morning Prayer Lunchtime Prayer End of the Day Prayer
TERM 5
We've come to the end of another term of learning! I have been so impressed by your home learning this term and all of the effort you have put in. Thank you Mums and Dads for all your hard work too! Over half term, have a go at the project below and we will hopefully see lots of you back in school soon!
EXTRA – Half Term Challenge!
Our Whole School Project for Term 6 will be 'Window to the World'.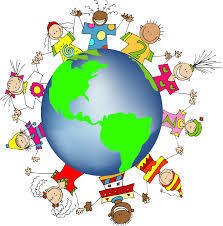 We are going to be finding out all about another country in the world. Over half term, we would like you to choose a country that you would like to find out about. You could choose a country that you have been to (perhaps on holiday), or that someone in your family comes from, or just a country that you think would be interesting to know more about. See if you can find something interesting out about that country to share with us. Here are some suggestions of activities that you could choose to do:
*Draw or paint the country's flag.
*Make a little book about the animals that live there.
*Follow a recipe to make some food eaten in that country.
*Maybe even find out about that country's football team!
It is completely up to you what activities you choose to do. We are looking forward to you teaching us all about your chosen country, so make sure you share your work with us on Tapestry!
Friday 22nd May
Reading
Remember to read a book to an adult today and ask them to video you. Upload it onto Tapestry so that we can listen to your amazing reading too! If you need a new book to read, have a look on www.oxfordowl.co.uk
Writing
Phonics - Complete this phonics activity sheet. If you don't have a printer, just write the answers on a piece of paper.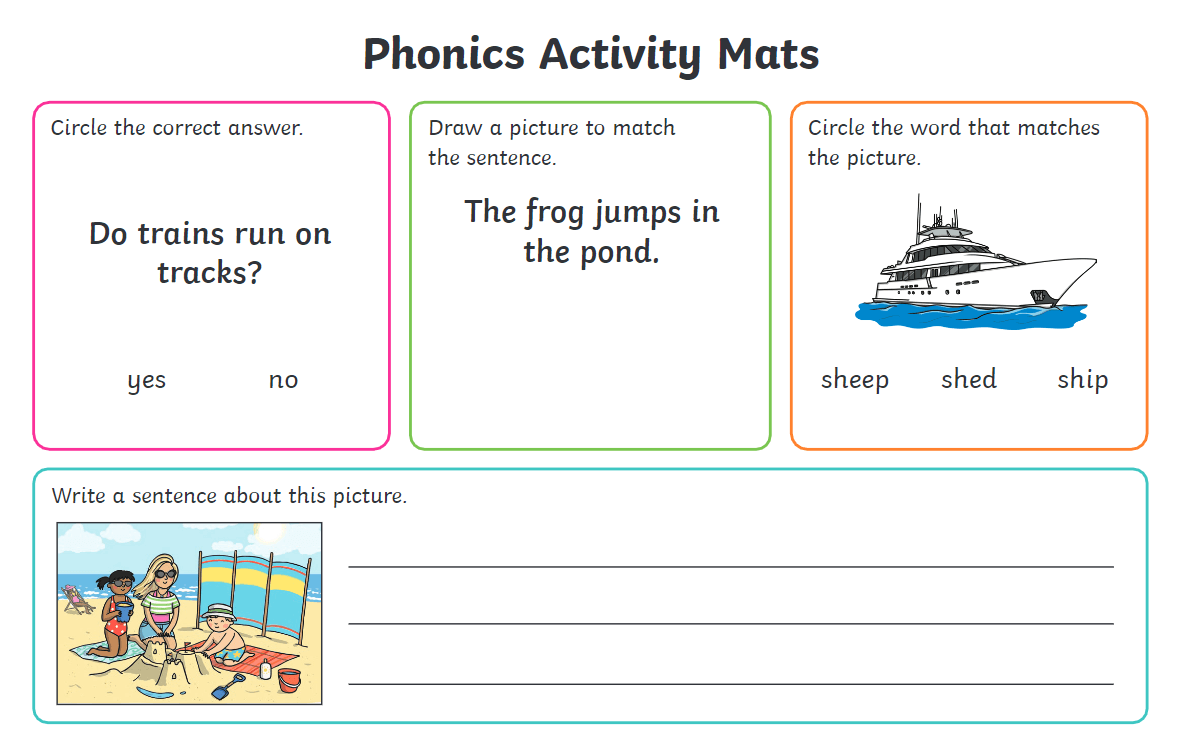 Maths
Subtraction game – you will need a dice and some stacking bricks e.g. Lego.
Firstly, stack up your tower (one per player). Use 10 bricks (or 20 if you want a challenge!). Next take turns to roll the dice. This is the number that you are going to subtract from your tower. Take off that number of bricks and count how many you have left. Say the number sentence that you have demonstrated out loud (e.g. "10 take away 3 is 7") or explain it as a number story (e.g. "there were 10 bricks and then 3 were taken away, so now there are 7 left.") Keep rolling the dice and removing bricks until there are none left. The winner is the first person to unstack them all!
For an extra challenge, see if you can write some of the number sentences down.
Other areas of learning
Make a rock pet! Follow these instructions to create your own pet rock.
When you go for your walk, find some interesting places to leave them for other people to see. I wonder if they will still be there when you go on your walk again? I wonder if you will spot any other rock pets when you are out and about?
Thursday 21st May
Reading
Find a book that you are familiar with and that you enjoy reading. 
Cut out pieces of paper with the words: he, we, she, me, be, you (or choose some other tricky words).
Ask and adult to read to you, if you recognise one of the words from the story as one of the words on the pieces of paper, make sure you tap it before your adult does! 
Writing
Note to parents: Here is a really lovely, age appropriate story about worries called 'Everybody Worries'. It could be a great starting point to encourage your child to talk about any worries they have at the moment. It explains that everybody has worries and it is ok to feel that way.
After reading the story above, watch the video on Tapestry to meet our new friend, the worry monster! He is going to be joining us in Ducklings and Hedgehogs classroom soon and he has a very special job to do. He loves to eat worries – they are his favourite meal! Yum Yum! So all you have to do if you are worried about something is write it down, or draw a picture of it and we will feed it to him at dinner time! Then your worry will be all gone!
I've got a little worry at the moment... I'm worried that I don't know what his name should be? Can you help me by thinking of a good name for our new friend? I would like you to write me a letter to tell me what you think our worry monster should be called, and why. I want to hear all about your ideas and can't wait to read your letters on Tapestry!
Maths
Watch this episode of Number Blocks to find out lots of different ways of making 6.
Now choose a number between 5 and 10 and tell an adult everything that you know about that number. Can you think of 5 facts? Can you write them down?
For example, if my number was 6, I might say 'I know that 6 is one more than 5. I know that 3 add 3 is 6. I know that I can count in 2s to get to 6.'
Challenge your adult to see if they can think of 5 more facts about your chosen number!
Other areas of learning
Fruit art – Use this PowerPoint to find out all about a famous artist called Guiseppe Arcimboldo. He is famous for making pictures of people made out of food!
Next, have a look at these other food art pictures. What different foods can you spot in the pictures?
Can you make your own picture out of food? Be as creative as you like! Take a photo of your finished artwork (before you eat it!) and post it on Tapestry for us to see!
Wednesday 20th May
Reading
Sentence substitution - Use pieces of card to write out the words below. Make the sentence first and read it. Then see if you can use the other words to change the sentence. How many different sentences can you make? Remember, it isn't a sentence if it doesn't make sense! It can be silly, but it must make sense. Have a look on Tapestry to play along with Miss Holland first.
This is your first sentence substitution:
Mark fed the cat.
dog hid moon Gail
If you want a harder challenge, try:
We had sandwiches for a snack.
took plums slugs picnic
Writing
Phonics – play 'Alien Escape' on Phonics Bloom website. Choose Phase 3.
Click on the arrow to hear the word and then use the letter tiles to spell it correctly.
Maths
One minute challenges - Start by thinking about how long a minute is (it is 60 seconds so perhaps count up to 60 slowly to help you). Close your eyes and ask an adult to time a minute. See if you can keep your eyes shut until you think the minute is up. Did you get close? Was it longer or shorter than you imagined?
Now see how many of these challenges you can do in a minute. Before you start, estimate how many you think you will be able to do, and then try it out! Ask an adult to time a minute for you.
Challenge 1 – using one dice, how many 6s can you roll in one minute? (It's not very easy to roll a 6!)
Challenge 2 – how many times can you write your name in one minute?
Challenge 3 – how many hops can you do in one minute?
Challenge 4 – how many words in a book can you read in one minute?
Challenge 5 – make up your own challenge and see how many times you can complete it in one minute!
Other areas of learning
Listen to this mindfulness story online called 'The Balloon'. Before you start, make sure you are lying somewhere comfortable and quiet where you can concentrate.  You could ask an adult to do this with you too. 
Where did you go with the big red balloon? Where was your favourite place? What did it look like? What did you see there? Were there any people or animals there? What did you hear? What could you smell?
Perhaps you could draw a picture of it and tell me all about it.
Tuesday 19th May
Reading
Do you remember when we made up our own stories in school? We used Jack and the Beanstalk to give us some ideas and then we made up our own stories about what was at the top of our beanstalk.
Well today, I'd like you to use your imagination to make up a new story. Use this storyboard dice sheet to give you some ideas about where your story might take place (the setting) and who might be in it (the characters).
You can use this planning sheet to draw the different parts of your story if you would like to and when you are ready, tell your story to someone in your family.
I would love to hear it too, so maybe you could record it and upload it onto Tapestry for me to hear? If you want to, you can write your story, but you don't have to, as this is an oral storytelling challenge, which means that you say your story out loud. I wonder if your characters will have different voices?!
Writing
Phonics - Today we will practice the digraph 'th.'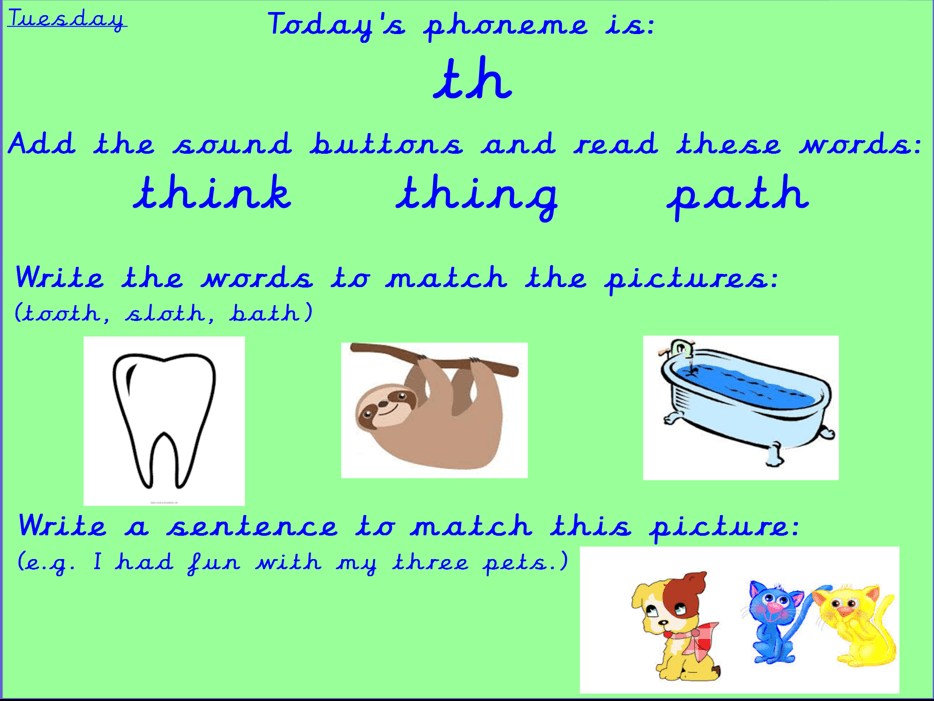 Maths
Repeating patterns - Use this PowerPoint to explore repeating colour patterns with Colin the Caterpillar. Then see if you can use some vegetables and paint to do some printing and make your own repeating colour pattern caterpillars.
Or, if you don't have any paint, how about completing the caterpillar patterns on this sheet?
Other areas of learning
Play 'Copy Me!' - Take turns with one person being the 'mover' and one being the 'copier'. Whatever the mover does, the copier has to do too. Move your bodies in weird and wonderful ways!
Additional Music Challenge from Mrs Smith!
Check out Tapestry for a music challenge from Mrs Smith!
Monday 18th May
Reading
Today we are going to practise saying the letter names (rather than sounds). Remember, each letter of the alphabet has a name (just like you have a name) but it also has a sound (just like you make sounds). Join in with Mrs Serjeant to practise the letter names of the alphabet on Tapestry.
Then use some pieces of card to write out the capital and lower case versions of each letter and see if you can make them into an alphabet rainbow. Use this one to help you if you like.
Writing
Help an adult to write a shopping list for the week! Ask an adult what they need to get from the shops this week, and help them to work out what else is needed by looking through the kitchen. Can you write some of the foods down on a list? Remember to sound out the words carefully and then try to spell them (using their letter names) before you write them.
Maths
At different points through the day, write down what you are doing at different times. For example, 'At 8 o'clock I had breakfast.'  Do this again on another day of the week. 
What do you notice was the same and what was different about each day?  Do you do different things depending on the day of the week? Is the weekend different to the week days?
Other areas of learning
RE - This Year is the Year of Communion. Use this PowerPoint to find out about what this means and how we are part of a community. We are very lucky to have a wonderful local community, full of people to help us, especially at the moment. Your challenge is to do something to say thank you to someone in your community?
Maybe you would like to make a sign for your window, or make them a card, or draw them a picture, or write them a letter. Perhaps you could put a message on your recycling bin for the refuge collectors to find? Or perhaps there's someone in your local area that you think might be a bit lonely and would like to receive a card from you through their post box?
Let me know how you managed to do God's work by caring for someone who is in your community.
Optional resource:
'Where Did Everyone Go?' - Here is a lovely story about the current situation. It is age appropriate for the Ducklings and Hedgehogs and could be useful as a talking point for you and your child. It is a simple explanation of why we are staying home at the moment and how the children can help (by chasing their boredom away!) If you think that it is appropriate for your child, please share it with them.
WEEKLY CHALLENGES: These are completely optional suggestions of activities that your children might enjoy doing.
Create your own fruit salad – try and use a fruit that you have not tried before. There is a recipe here (although you can substitute the fruit for what you have available at home).

The plane 

game

! Follow these instructions on how to make paper planes, and see if you can create your own paper plane. Then have a family competition to see whose plane can travel the furthest.

Superpowers – choose a superpower that you would like to have for the afternoon. Will you be invisible? Can you fly? Super strength? Super tidy-

uper

?! Pretend to have that power for the rest of the day, using lots of talk to describe your super power and what you can do.

Find a board game that you enjoy playing with an adult and see what would happen if you changed/added a rule to the game (you could do ten star

jumps if you roll a six for example), Did that make the game easier or harder? What was the new rule that you created for the game/what was changed?

Make a treasure hunt. Hide some treasure and make a map for your family member to find where it is. Take it in turns to hide the treasure and use the map to find it.

Try to use the language of right/left/forwards/backwards etc.
Resources to Help
Sound mat – use this to support your child with their writing. They have learnt all of the sounds on the mat.
Tricky word mat – use this to support your child with their writing. They have learnt the orange, purple and blue words so far this year.
Handwriting patter – use this to support your child with the correct cursive letter formation.
Book Band Bookmarks – use this to support your child with their reading. Use the colour band that your child is on.
Number track – use this to support your child with their maths. They can use it to recognise numbers, order numbers, find one more or less, add and subtract.
Hundred Square – use this to support your child with their maths. This is just a large number track cut up into rows of 10s!
Extra Activities and Online Resources
Reading:
Read, read, read! – If nothing else, please read for at least 10 minutes every day.
www.phonicsplay.co.uk – Username: march20, Password: home. Choose Phase 2 or 3 in a game (e.g. Dragon's Den and Buried Treasure)
www.oxfordowl.co.uk - Set up a free login and access e-books. You can choose the correct stage for your child based on their current reading book.
www.storylineonline.net – Website with videos of different children's stories read aloud.
Alphablocks – Educational TV for when you need a few quiet moments! You can find several episodes on BBC iplayer.
Maths:
www.topmarks.co.uk - Choose 'Whiteboard Resources' or 'Learning Activities' and select 'Foundation' for EYFS activities. There are many games to support learning in maths and literacy.
www.activelearnprimary.co.uk – We have added several more games to your child's Abacus Active Learn Webpage.
Numberblocks – Educational TV for when you need a few quiet moments! You can find several episodes on BBC iplayer.
Keeping Active:
www.cosmickids.com – Yoga for kids videos. The children have used some in school and love them!
www.gonoodle.com – Access to lots of movement and mindfulness videos.
https://www.youtube.com/channel/UCAxW1XT0iEJo0TYlRfn6rYQ - complete Joe Wicks daily PE sessions at 9am
www.bbc.co.uk/teach/supermovers - Easy to follow active learning videos. Choose KS1.
Other activity Ideas:
www.twinkl.co.uk – This is a website with hundreds of activities covering all subjects. For example, you can search for EYFS phonics, maths or craft activities based on your child's individual interests. It is currently offering free access to parents. There are also help guides for parents. Feel free to explore!
https://www.bbc.co.uk/teach/school-radio/nursery-rhymes-songs-index/zhwdgwx - This website has lots of songs to sing. Can the children make up a dance to go with the song? Or make a musical instrument to play along with it?
Friday 15th May
Reading
Remember to read a book to an adult today and ask them to video you. Upload it onto Tapestry so that we can listen to your amazing reading too! If you need a new book to read, have a look on www.oxfordowl.co.uk
Writing
Complete the attached Phonics activity mat. If you don't have a printer, just write the answers on a piece of paper.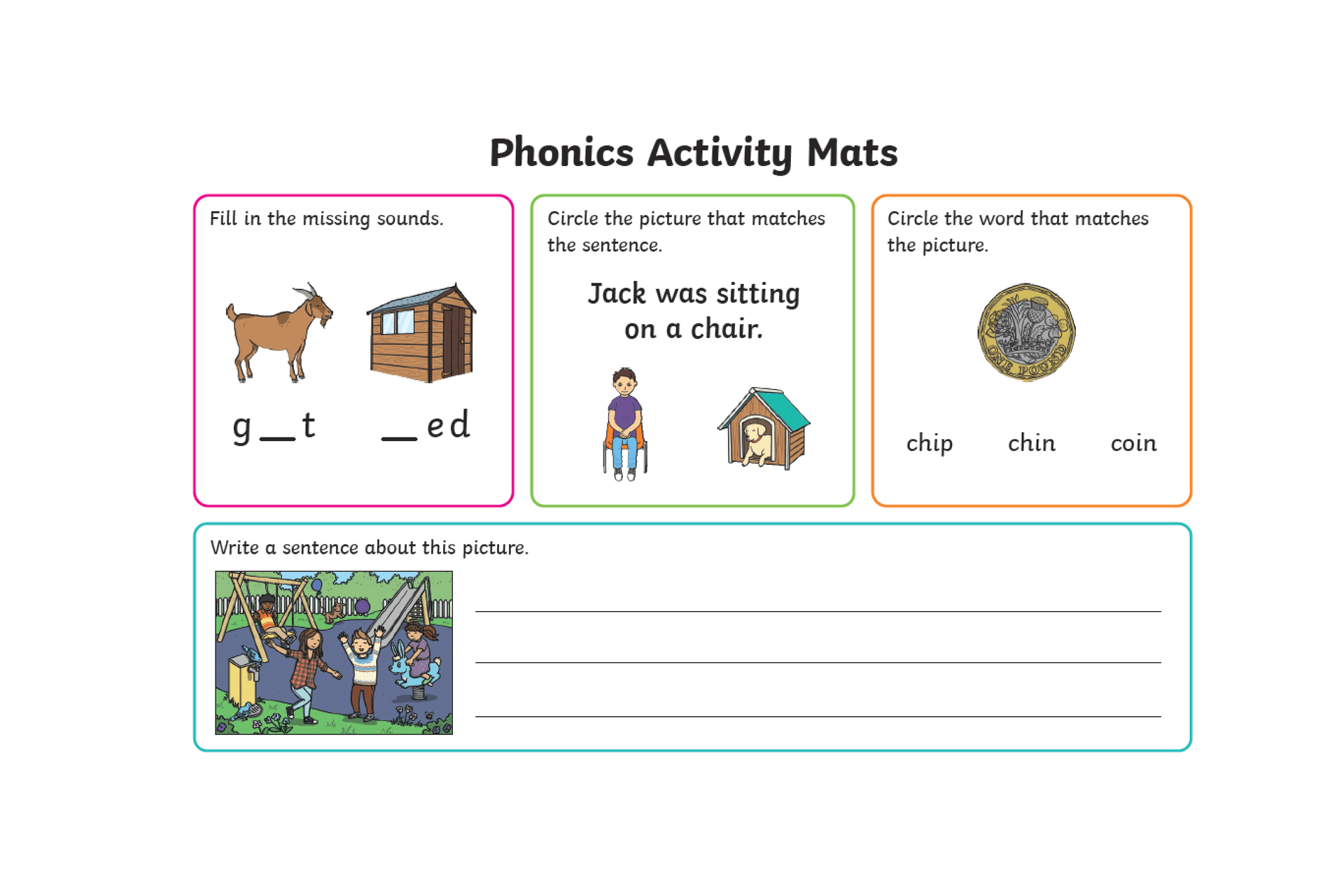 Maths
Write out numbers 1-20 on pieces of paper and cut them up. Get someone to hide them around your house and go on a number hunt. When you have found them all see if you can group them into odds and even numbers. You can do your whisper counting to help you.
Other areas of learning
Hopefully you managed to collect some boxes, bottles or tubes at home before they went into the recycling. Use your junk to make a model. You will also need some different things to stick the parts together, sello tape, pva glue or pritt stick, talk about which would be the best to use and why? If you have any kitchen foil or paint you could cover your model.
Can you record a video of your child talking about their creation?
I have recorded a few videos of me making a robot! If you want to make the same as me you can follow along or think of something you'd like to make!
Thursday 14th May
Reading
With an adult play a game of hangman, see if you can use any of the digraphs from this week when thinking of a word to use (ch, sh, th, ng).
-Instructions on how to play hangman if you are unsure:
https://www.youtube.com/watch?v=cGOeiQfjYPk
First let the adult play, so you are guessing the word, and then have a go at coming up with a word of your own!
Writing
Find something really special in your home and either draw a picture of it or take a picture and stick it to your piece of paper. You could choose your favourite toy, a pet or something you've had for a long time. Write some sentences to describe it. Is it soft or hard? What do you do with it? Has it got a name?
I did this challenge on tapestry, join in with my sentence to practise sentence writing and then write your own.
Maths
Cut a piece of paper into a long strip that you can fit your hand on. Using paint, dip your hand and make handprints across this strip (or piece) of paper.
-How many times can print your hand on the piece of paper?
-How many fingers does each hand have?
-How many fingers are there overall, can you count how many there are in fives?
Other area of Learning
Make an emotion poster to help express how you are feeling. Draw different expressions onto these blank faces and label them. You could make an arrow or a star to stick on each day next to the emotion that you are feeling.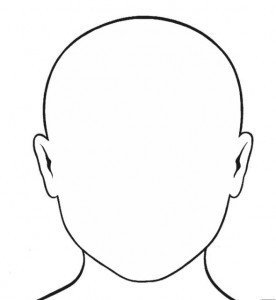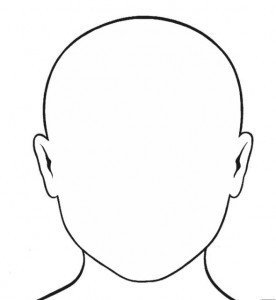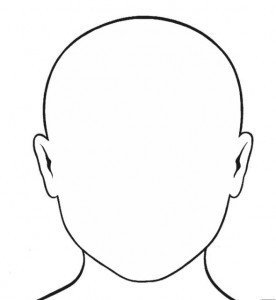 Spanish
Señora Dean and Pepe have found a fun song to practise their Spanish while they are washing their hands - ¡Lávate las manos!
Stay safe everyone!
Wednesday 13th May
Reading
Add sound buttons to these question and read them. Can you answer them?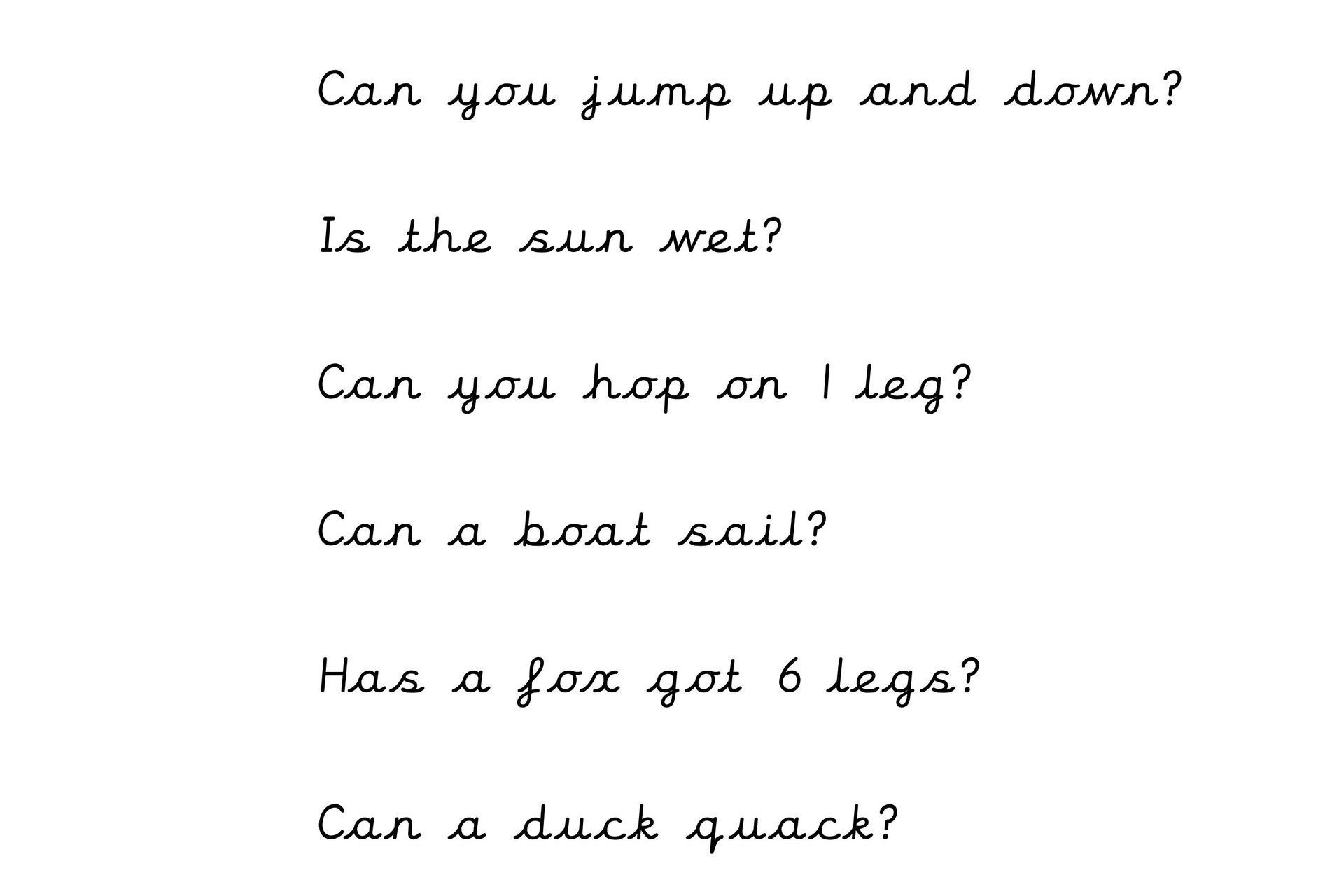 Writing
Phonics – Today we will practice the digraph 'qu.' Use Mrs Serjeant's video on Tapestry to practise your sounds before you start.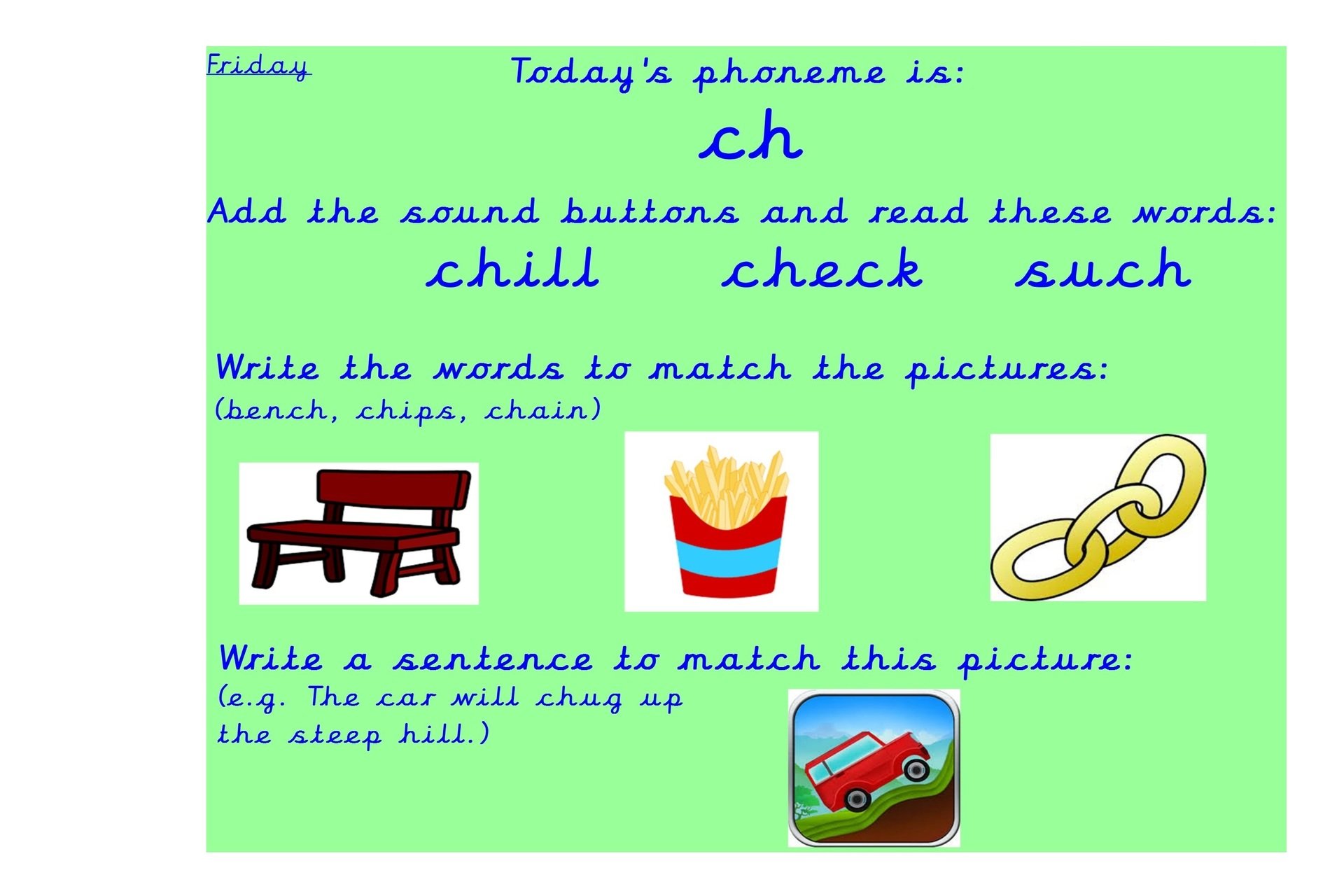 Maths
Mrs Serjeant has recorded a video on Tapestry of a halving maths game with Whizzy Wizard. Come and join in and maybe have a go on your own too!
Show children half of 8 using your fingers. Show four fingers on each hand with hands touching, then move your hands apart, saying, Half of eight is four. Practise a few more examples. Show me half of six. Children show six fingers with the same number of fingers on each hand. Then altogether say, Half of six is three, as everyone moves their hands apart. Now play ʻSimon says'. Explain that if Simon says ʻShow me half of ten', children do this on their fingers, but if you don't say ʻSimon says' before an instruction, they must not do it. Simon says show me half of ten. Simon says show me half of two. Now show me half of four. Did anyone get caught out? Carry on like this, and see if children get better at not being caught out.
Other area of learning
Draw a picture for a loved one. Draw a special picture and write a message for someone that you love but you can't see at the moment. What could you draw and write that will make them smile? Send it to them in the post or send them a photo of it online.
Tuesday 12th May
Reading
Make a trail of word cards, some words with digraphs in and some tricky words. You can print these ones off or write some yourself. Can you follow the path sounding out each word? If you want the extra challenge add these tricky words!
Mrs Serjeant has recorded herself doing this challenge on Tapestry. Start by following along with her and sounding out her words and then create your own.
Writing
Phonics – Today we will practice the digraph 'qu.' Use Mrs Serjeant's video again to practise your sounds before you start.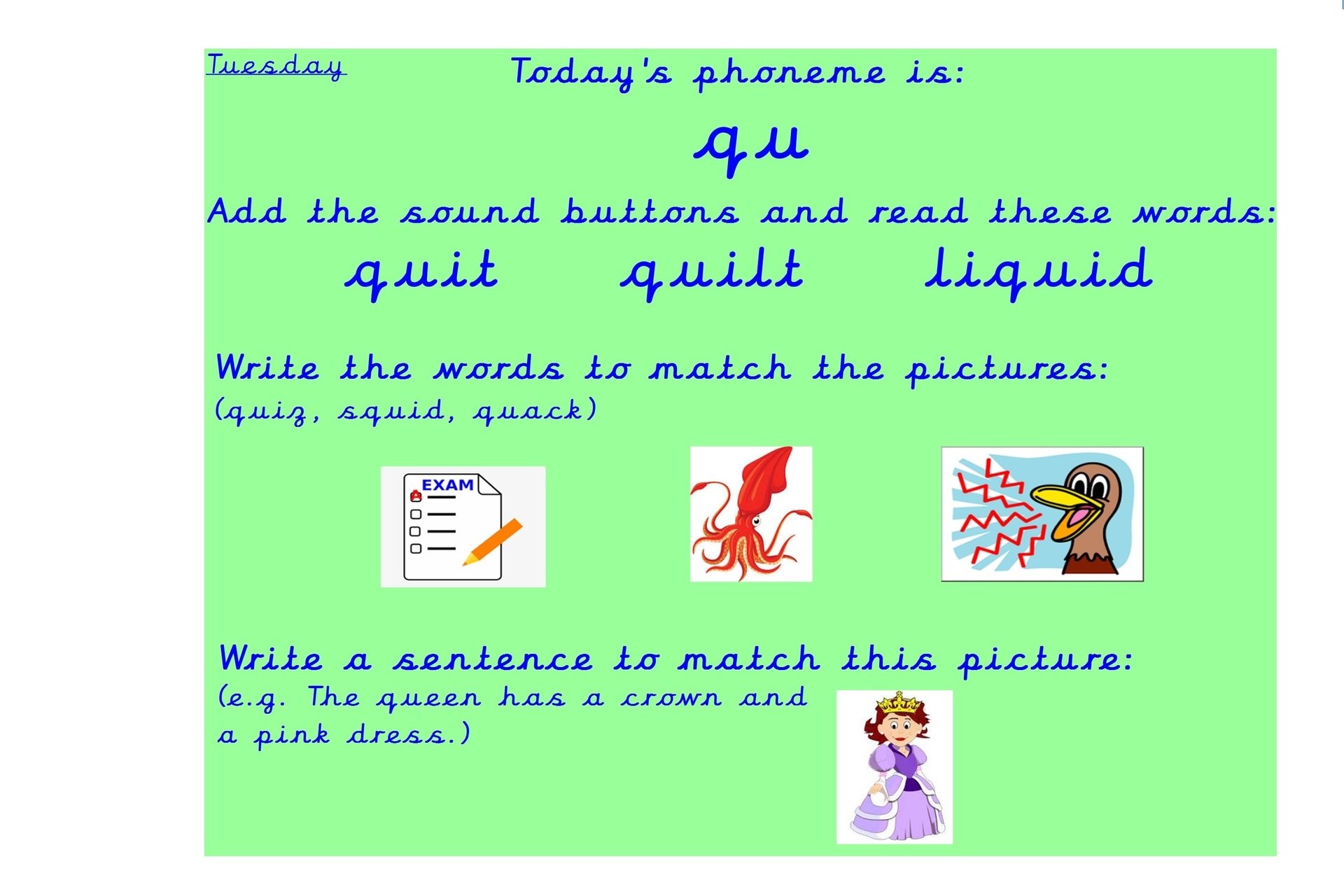 Maths
Counting to 100
-Find something that you can count a lot of that isn't too big (for example: coins, rice, or bits of lego).
-See if you can count the objects into groups of 10, count them carefully and put them in separate piles (if you are using rice, maybe you can use plates).
-Can you reach 100?
-How do you know?
-Try again by counting the objects into groups of 5.
Was it easier or harder to count in groups of 5s?
Other area of learning
With an adult read through this PowerPoint on Judaism, what did you learn? Did you notice any similarities and differences between Judaism and Christianity?
A Star of David is an important symbol in Judaism. See if you can follow these instructions to make one using paper, scissors and glue! Ask an adult to take a photo of your star of David and upload it onto Tapestry for me to see!
Monday 11th May
Phonics
Letters and Sounds Youtube channel are uploading phonics lessons every weekday in the summer term. Check them out https://www.youtube.com/channel/UCP_FbjYUP_UtldV2K_-niWw
They have already uploaded some from last week and there will be new ones everyday. Find the ones that are titled Reception and the children can join in.
Writing
Write a diary entry. Think about what you did today? Or you could write it about what you did on VE day or the weekend! We would love for you to challenge yourself and make sure to remember everything a sentence needs. (Capital letters, finger spaces, full stops and remember to read it through) Have a look at your tricky word cards and choose some to include in your writing. Draw a picture of your favourite part.
Maths
Sharing. Can you have your very own teddy bears picnic and share some objects between your teddies. Use items around your house like fruit or your toys to complete this sharing activity, alternatively, draw the objects or make them out of playdough. I have uploaded some videos to tapestry of me hosting my own teddy bears picnic.
Other areas of learning
Time for Toy School! - Create your own school in your bedroom. Invite all your teddies and toys to come to school and you can be the teacher! I wonder what you will teach them today? Will they do some phonics? Or maths? Will you read them a story? What will they have for snack time? (you could use your new knowledge of sharing to make this fair!)
I can't wait to hear all about your teddy's day at school! Upload some pictures to Tapestry so I can see what happens in your school!
Extra
For an activity later in the week collect some boxes, tubes, plastic pots before they go in the recycling!
WEEKLY CHALLENGES: These are completely optional suggestions of activities that your children might enjoy doing.
Find a time this week when it is sunny and do some water painting. Fill a cup with some water and take it outside (using concrete pavement works best) and try to draw something that you can see. Is it a member of your family? A plant or tree? An animal?
Take a blanket outside and watch the clouds on a cloudy day. See if you can spot any clouds that look like dinosaurs. Do they have spikes or long tails? You could ask a family member to play with you. Who can spot the most?
Make a 'wish jar' – decorate an old jar or pot to keep your wishes in. Each time you think of something that you wish you could do or somewhere that you would like to go, write it on a piece of paper and place it in the pot. Once we are back to normal you can have lots of fun working your way through all of your wishes.
Make a role play ice cream shop – use paper to make signs for how much ice cream and ice lollies cost and then use real coins to sell them to your family.
Find some different natural materials e.g. rocks, leaves, twigs and make different repeating patterns with them. E.g. rock, rock, twig, rock, rock, twig. We'd love to see some of these on tapestry.
Dear Parent/Carers
Welcome to our dedicated class page! Whenever we have got anything we would like share - photographs, letters, exciting work we are doing - we'll put it on our page.
2019-20
Welcome to Ducklings class! The children are settling into their first year at school really well and we are all very excited about the adventures we will have together this year!