Saints & Houses
The saints above all are our brothers and sisters "who have welcomed the light of God into their hearts and have passed it on to the world, each one according to their own 'tone'," - Pope Francis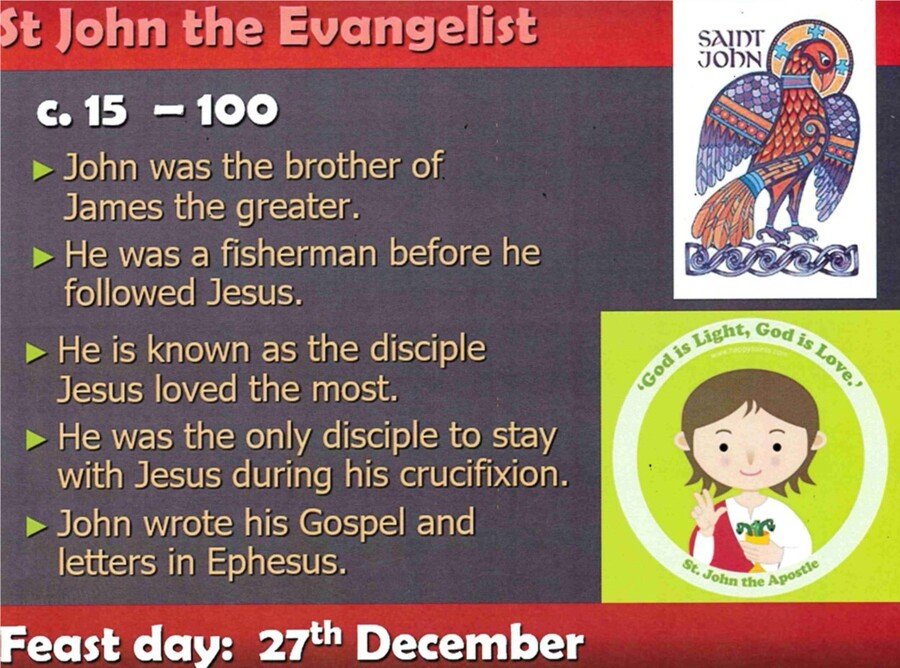 We have a number of Saints that are special to us at our school. Of course, Saint John the Evangelist (sometimes known as Saint John the Apostle) is our school's name sake, and is close to our hearts. The school itself dates back over 100 years to the school house by St. John's Catholic Church in Bath city centre, one of the parishes many of our children still attend. Saint John the Evangelist played a leading role in the early church at Jerusalem. Our school logo, The Eagle carrying a Bible represents Saint John and his Gospel. We celebrate Saint John on our return to school in the New Year (as his feast day is 27th December) but look to his example daily in spreading the Good News, and ask for his intervention in our prayers.
'Saint John the Evangelist, Pray for Us.'
House Saints
All children and staff in the school are placed in one of four houses: St. George, St. Andrew, St. David and St. Patrick. The children collect house points throughout the year and compete in their houses at sports day. We have staff Heads of House and two children are House Captains for each house. These children are an example to others and take on extra responsibilities and additional service throughout the year.
On each House Saint's Day (or the next school day) we celebrate by: the children and staff across the school wearing their house colour; the house captains lead the whole school assembly on Monday with the Headteacher about their named Saint; the whole of the House (from Early Years to Year 6 and staff) have lunch together and the children in that House are given information about their Saint and prayers to take home with them.
You can learn more about each House Saint below: